IT Infrastructure
IIM Sirmaur is dedicated to deliver state of art Information Technology Infrastructure facilities to the user community of the Institute. To achieve the goals and objective of Institute and also to build excellent pedagogy at IIM Sirmaur, the IT and computing facilities have endlessly and significantly been improved over the year. The Institute has state of the art Wi-Fi facility which is accessible throughout the campus. The computer lab is fully equipped with latest configuration computer systems that have access with latest software and databases.
Computer Center:
Computing Resources:
 A Computer Center with 1 Gbps backbone network facility has been set up in the campus for providing present and future IT and computing requirements of IIM Sirmaur Campus. Some of the salient features of this facility are mentioned below:
1 Gbps backbone connectivity;
1 Gbps connectivity to desktops;
IT consolidation in Computer Center; Storage and Servers;  Network Security and Content Caching;
500 Mbps leased Line internet connectivity
Access to online library database and e-journals- mail and local database server.
The network is based on the high availability architecture with core distribution and access layer switches. All the important places like the academic building; Computer Center, Library, Hostel & classrooms etc. have been connected by 1 Gbps connectivity with redundant 500 Mbps links in case of failure. Computer Center provides various facilities like centralized storage, Application Servers, Web Servers and Mail Servers etc. Various Security Measures like Gateway Antivirus Software, UTM device, Firewall, and Alarm and Access Control Systems have been installed for protecting the network and Computer Center from unauthorized access from.
Campus wide Network:
Internet is provided to all the Students, Faculty members, Officers and Staff of IIM Sirmaur campus.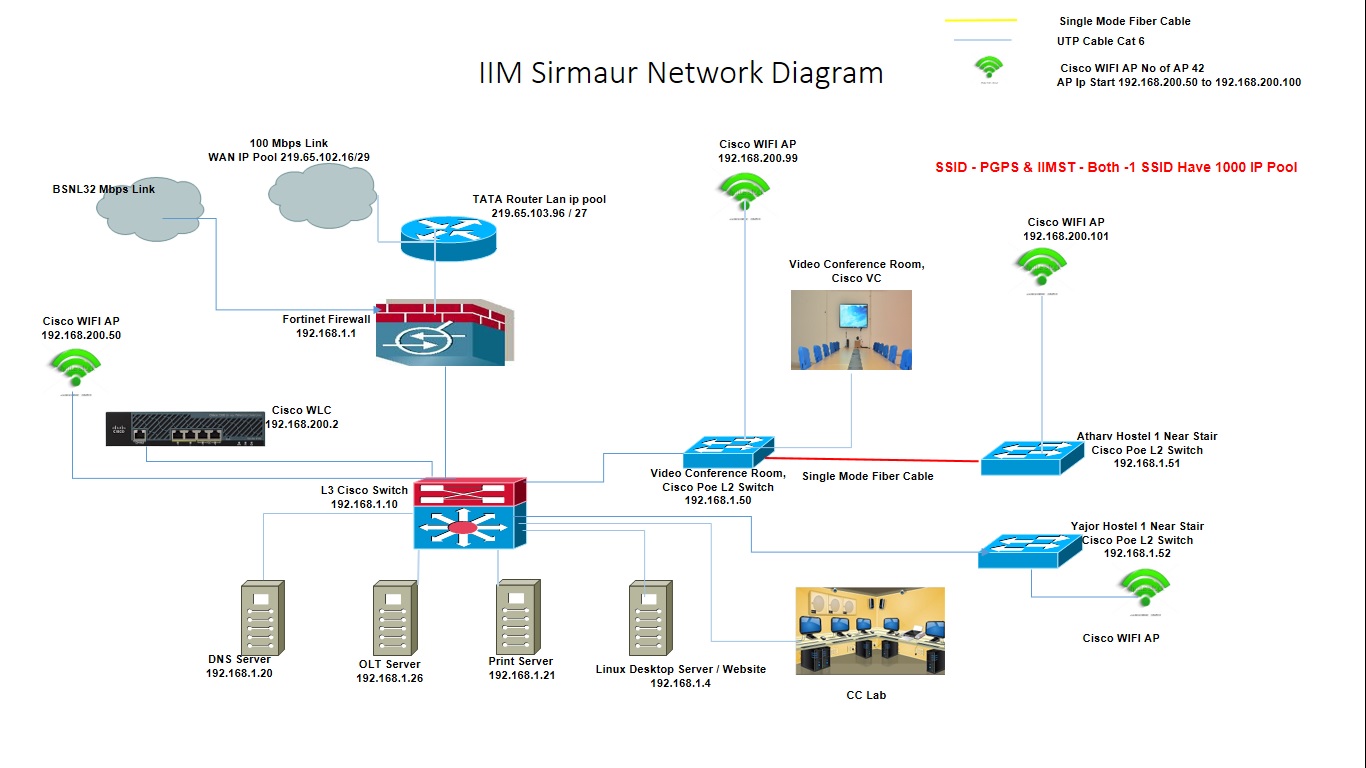 IIM Sirmaur Wi-Fi Network:
Full wireless coverage is currently provided at IIM Sirmaur campus which covers academic buildings, technical area, Hostels and Guest House, Student Mess, Playground area etc. This is a controller based Wi-Fi network which currently manages more than 42 dual-band 802.11n Access Points and capable to provide seamless high speed internet connectivity to over 400 users devices. This Campus-wide Wi-Fi network will help the students and faculty members to access to e-learning resources anytime anywhere using smart phones, tablets, laptops etc. Instructions for connecting to the Internet through the Wi-Fi network, including how to configure and register laptops and mobile devices, are also available on the IIM Sirmaur Computer Center.
Video Conference and Virtual Class Rooms:
Computer Center has developed Virtual Class Room environment to conduct interactive online lectures and meetings. It supports Full HD quality video streaming and video recording facility as well.
Video Conference room is used to conduct online meetings and lectures through other national/international academic communities. These services are run on dedicated IIM Sirmaur network.
IIM Sirmaur Web Server:
IIM Sirmaur has its own Domain Name Server (DNS) for Institute website (URL: iimsirmaur.ac.in) run by Computer Center. Institute website displays the information about IIM Sirmaur campus, departments, faculty members, programmes, Admissions and placements etc. together with some links that connect to the useful applications like mail login, library server, recruitment etc.  Institute also has online platform for submitting fees and transactions through debit/credit/net banking. Mobile based payment apps have also been encouraged on the campus for making transactions.
Mail Server:
IIM Sirmaur has provided G-suits mail service for students, faculty members and staff members. Mail service is available on Intranet and Internet simultaneously.
Dedicated Application Software Servers:
IIM Sirmaur have state of art application software's such as OLT, ACE Database, SPSS & Bloomberg which helps in Research, learning and grade preparations. All Software are running on the servers installed at Computer Center and connected from users/Offices through LAN & WIFI.
Computer lab remains open and accessible 24×7.